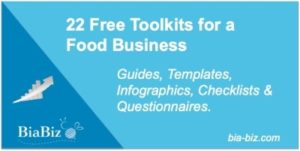 Our Food Business toolkits include guides, templates, infographics, checklists & questionnaires, on important activities in a food business.
Our toolkits:
Are user friendly practical implementation aids to aid productivity.
Allow you to collect data in an orderly and systematic manner so you don't miss key steps.
Provide step by step guidance and checks on essential activities.
Help you to evaluate your current process or start a new process.
Challenge your thinking and provide ideas and concepts to disseminate.
Innovation
Packaging
Supply Chain
People Development
 Start-Up