I have worked in organisation, leadership, management and people development for over 20 years and have been exposed to so many interesting and insightful concepts, materials, trainings and best practices.
To support your personal development, your teams development and organisation development, I have consolidated value add materials from around the world onto a new People Skills page . The page includes free best practices, tools, trainings and videos across 16 areas: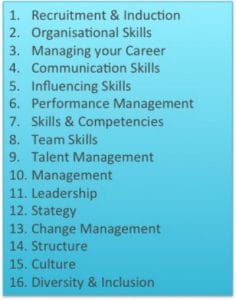 Self awareness and a personal development plan are essential to career growth and reaching your full potential. Why not explore our directory and set some time aside on your diary each week for personal learning.
Individual, team and organisation development are essential to the success of any business. Our directory has links to materials that will support your training calendar and your teams development.
Inform your thinking, broaden your perspective and accelerate your growth.
Noreen O'Connell