Tips on Accurately Measuring Temperature in the Food Industry (Guest Blog)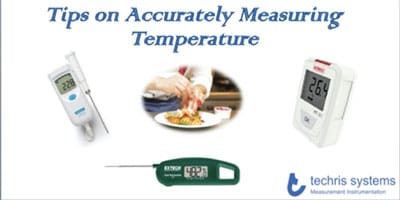 Accurate temperature measurement is essential to complying with HACCP, protecting consumers from food borne illnesses and ensuring the integrity of your formulation and supply chain.
Companies are very aware of the role that temperature plays in Food Safety however temperature also plays a vital role in Food Quality.
Have you specified tolerances for your formulations? e.g. at what temperature is your recipe negatively impacted for sensory attributes (taste, odour, colour, texture)
Have you specified tolerances for ingredient storage, preparation & processing?
Does temperature affect your package choice? e.g. temperature accelerates oxygen permeation in polyethylene & degradation of certain artificial sweeteners, a key consideration for ambient supply chains.
Do you monitor temperature exposure in transit to ensure product is being handled to your requirements?
Calibrating Food Thermometers
Are you regularly calibrating your thermometers and verifying that the correct temperatures are being recorded across your supply chain.
All thermometers/probes have a level of uncertainty and none are perfectly accurate. The accuracy can be expressed in many ways:
If the probe element of the unit is integral or permanently attached, the accuracy is often expressed as a single figure e.g. ± 0.5 °C.
If the probe is a plug-in, detachable part of the whole unit then often the accuracy is expressed for both the thermometer display unit and the probe – e.g. ± 0.3°C (thermometer) & ± 0.5°C (probe). These two figures must be combined to reflect the overall or system accuracy that will apply to the readings you are taking, so in this case, ± 0.8 °C.
In addition, the accuracy level may change depending on the temperature in question so you may not always be working with a fixed accuracy figure. Damage or the phenomenon of 'thermal drift' can also reduce the accuracy of your thermometers.
In short, the only way you can be sure that the readings you are taking are accurate is by comparing the performance of your thermometer/probe at various temperatures, with a very high accuracy, reference thermometer, which has itself been certified by an accredited laboratory. This is in essence what a temperature calibration service provides you with. The resulting certificate gives the assurance you need, with a very high level of precision and accuracy, that your food thermometer/probe is performing as it should be at a selection of key temperatures that are relevant to your supply chain.
Most quality procedures will require that this external calibration is carried out at least annually and that records are maintained. Checking that calibration certification of your food thermometers and data loggers are kept up to date will keep you compliant.
Techris Systems provide you with instrumentation and calibration solutions based on over 20 years' experience within the Food, Laboratory, Industrial and Environmental sectors. For further info on both instrumentation and calibration services visit https://www.techrissystems.com/food-and-catering.