Ultimate Guide to Start Your Home-Based Catering Business (Guest Blog)
Whether you're an at-home chef or someone with a professional cooking career, you can start your own catering business to share your talent with paying customers. The art of catering is extremely sought after by all types of clients, and it's a perfect way to showcase your own delicious creations for various events.
If you're interested in offering your own at-home catering services to customers, this guide has the information you need to get started. No matter what type of food you love to make, you can become a home-based caterer who turns doing something they love into a profitable, successful business.
The catering market by the numbers
The world of home catering is always evolving, and it looks like it'll continue to grow in the coming years. In terms of market growth and outlook, the size of the catering sector in the United States grew by an impressive 16% in 2021. The industry had a total valuation of approximately $9.51 billion in 2021 and a staggering $10.59 billion in 2022.
There are several reasons for this surge in market growth. For one, more customers are ordering food to be delivered versus picking it up. Numbers show that approximately 74% of customers prefer delivery compared to 26% of customers who prefer to pick up food.
Now is an excellent time to start if you're interested in running an at-home catering business. A preference for online catering is another reason why the market is continuing to thrive. If you're considering starting a catering business, make sure you incorporate some form of online ordering to help you grow.
How to become a caterer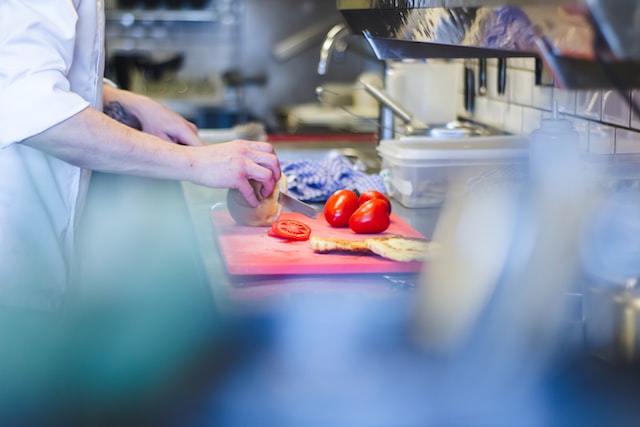 If you're interested in becoming a professional caterer, there are a few things you'll need to do. Here are the three main components that you should consider to provide your delicious food to customers:
The benefits of starting a catering business

If you love the art of cooking, there are many excellent benefits to starting your own at-home catering business. Here are some pros – and cons – if you decide to take on this new role:
How to start a catering business from home
Now that you know more about what kind of skills and responsibilities you'll have as a home-based caterer, it's time to examine how you can start your own catering business.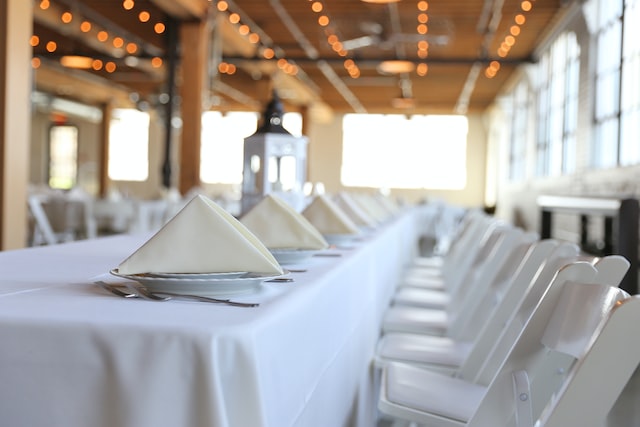 Planning
Every successful business starts with proper planning. Remember these tips to help you get ahead of the game:
Menu and pricing
Not all caterers are alike, so coming up with an amazing menu and setting your pricing in advance is crucial. Come up with some signature menu items and price each one accordingly. Consider offering bulk discounts to those who need catering for larger events or offer your menu a la carte so clients can pick and choose what they want.
Much of your pricing structure will depend on what type of catering you plan to do. Remember to take things like the cost of ingredients and the total time it takes to prepare and make each dish into account. Here are the four most common types of catering to consider:
Set up your kitchen
Having a workable kitchen with the right equipment is the cornerstone of catering success. Here are a few important things you'll need to consider:
With a kitchen appliance home warranty, you can have peace of mind knowing that if any of your covered appliances break down due to normal wear and tear, the cost of repairs or replacements will be covered. This can help you avoid the potentially high cost of repairing or replacing a major kitchen appliance out of pocket.
Transportation
In most cases, you'll need to be able to safely transport your delicious food to the customer. Here are some tips to ensure that you follow the proper methods of transportation to keep the food fresh, delicious, and safe to eat:
Use catering management software
There are several excellent catering management software programs, like E-Cinch, available to help you with things like scheduling, time management, and task management. Choose a software program that uses a booking management calendar so you can keep track of current bookings, schedule appointments and phone calls, and prevent accidental double bookings. The software should sync with your Google calendar or other digital calendars.
Look for programs that generate reports like invoices, checklists, proposals, and profit and loss reports. Customer relationship management (CRM) is a helpful tool that helps you organize and track your customer and vendor information in real time while giving employees the same information. Some examples of quality catering management software include Releventful, Connecteam, Foodstorm, and Tripleseat. Compare the prices and benefits of several programs before you decide which one is best for your business needs.
License and permits
Every restaurant and professional caterer must have the proper licensing and permits in order to do business. Each type of license and permit has its own unique requirements, and they may vary based on your specific location.
To find out which ones you need, get in touch with your state or occupational health licensing department. Check the U.S. Food and Drug Administration (FDA) list of regulations and codes, which should provide you with more details about the food service regulations in your specific state. The Small Business Administration (SBA) also has guidelines regarding the catering rules in each state.
Here are some examples of some of the licenses and permits you will need:
Hire and train your staff/personnel
Small catering jobs can typically be handled independently, but as your catering business grows, you may find that you could use extra help. Catering larger events and those with bigger, more complex menus usually requires a few helping hands.
Even if you're completely capable of making all of the food yourself, you may need some help transporting and serving it. Having help with the cleanup will also take some of the stress off of you. If you're serving food buffet-style, you might want to hire people to keep the buffet stocked and the food warm. Sit-down meals require plenty of people to serve food, take dirty plates, and confirm that customers are happy with their meals.
If you attended a culinary school, you may be able to reach out to current students or ask a few of your fellow graduates for help. Some examples of positions you may want to hire include cooking assistants, sous chefs, drivers, servers, and dishwashers. If you need help with marketing or accounting for your business, consider hiring administrative help as well.
Remember that no matter how experienced your new staff members are, you'll still need to provide training. The key is to ensure that your new hires are able to provide your clients with the level of service they deserve. This also helps to protect and preserve your brand and your reputation. Hiring a separate office manager or accountant can be especially helpful if you don't have experience with bookkeeping or if you need someone to handle scheduling and appointments, tax filing, and other administrative tasks.
Promote your business
Once you have your equipment in place, all of the required licenses and permits, and a solid business plan, it's time to do some marketing to promote your catering business. Keep these key elements in mind to ensure that you reach new customers and your target market:
If cooking is your passion, consider starting your own catering business from home. With the right target market, proper planning, and some creative marketing, you can experience the flexibility and creative freedom that catering brings. Use the tips from this guide to inspire you as you venture into the world of at-home catering, and soon you'll be reaping the rewards of success.
About the Authors
Rocio Espinoza is a content writer at Porch. She is a mother of two passionate about wellness, fitness, sustainability, and a pet lover. Her hobbies are reading, writing, and cooking.
The Guest blog was submitted by Maria Jose Meneses, a Marketing Specialist and does Content Marketing at Porch. She is passionate about animals and her hobbies are reading, writing, traveling and music