Finding your way around Training & Resources on bia-biz.com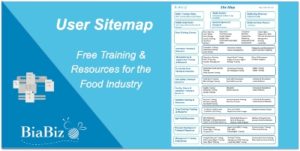 Welcome to bia-biz.com, a comprehensive online directory of valuable free training and resources for anyone working in, looking to work in or supporting the food industry.
We consolidate 'best of the web' free training & resources for all stages of the product lifecycle and supply chain for all food sectors and businesses of all sizes. Our directory includes:
Our Printable Sitemap will help you to find your way around.
If you find our website useful, please help spread the word by sharing it with your network.
We look forward to your contributions to our site.