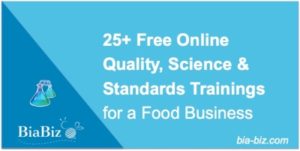 Links to Quality, Science & Standards Training & Resources for a food Business including:
25+ Free Online Trainings to support design, definition and management of a comprehensive quality system.
Consolidated Resource links for:
Food Standards
Open Access Journals (where staff can access the latest research)
Institutes & Associations (providing expertise, best practices & resources)
Useful Websites
Additional Resources
An Agri-Food Resources Catalogue providing valuable information on Food Sectors, Ingredients & Products.
A Supplier Management Training Series covering the key steps, in 4 short training videos: Supplier Quality Policy, Finding Suppliers, What's included on a Specification, Audit & Approve Suppliers.
A Questionnaire to support Issue Troubleshooting in a Food Business.
Explore our full Directory of 300+Free Online Trainings for the Food Industry.