How Data Analytics Boost the Profitability of the Food & Beverage Industry (Guest Blog)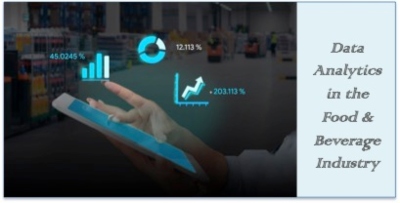 We all have an obsession with food! All people are united by food, no matter how basic or tasty it is, from bread and bacon to pizza, lasagna, lamb chops or brownies. Food sectors will surely seek an advantage by using analytical services to gain an edge on their competitors, due to the great demand and relevance for this field in modern society.
The food and beverage (F&B) business has recently seen deflation, in which all manufacturers choose to reduce the size of their products while maintaining the same price. The situation serves as a good example of the main difficulties facing the food and beverage industry, which include sharply shifting consumer trends and rising costs for raw materials and distribution. Several manufacturing scenarios require data analytics, a method of analyzing huge data to gain insight, in order to boost profitability and cut costs. A significant amount of data is collected and analyzed through data analytics to identify insights that can improve the business. In order to identify insights, that can improve business operations, eliminate errors, reduce costs, and enhance customer experiences. The data analytics of the company gathers and analyzes a large amount of information that is beyond human comprehension. In this blog, we'll talk about how data analytics boosts revenue in the food and beverage sector.
Therefore, food and beverage firms are cutting costs by making their products smaller. In light of this, what can we expect in the future? What part does technology play in overcoming this difficulty? Let's investigate.
Adapting to shifting consumer tastes
Consumers are active on social media and don't hesitate to share their opinions, especially the younger population. F&B businesses need to be aware of how quickly consumer tastes and preferences are changing across the globe. Food products that are healthier and more environmentally friendly are becoming more popular. They enquire about the raw materials, the manufacturing and distribution procedures used, the effects on the environment, and the company's employee policies.
Building strong and long-lasting relationships with customers would be a realistic way to address this issue and gain insight into their needs and emerging industry trends. They can then come up with original ways to engage their audiences. Additionally, F&B businesses need to accelerate the product development lifecycle by bringing products to market swiftly after the R&D stage.
Predicting customer demands accurately
Developing a cost-effective supply chain system for the food and beverage industry begins with production planning that meets customer demands. It will increase the likelihood of purchase while decreasing the cost of food waste. For demand forecasting, various data analytics approaches are available. For example, sentimental analysis can detect sentiment from texts in social media to determine how customers feel about a brand, current consumer trends, and which products are in high demand. With the help of data analytics, producing high-quality products at reasonable prices and offering customer-oriented services are possible.
Quality control in manufacturing can be achieved at a low cost
Another aspect of a supply chain that can be improved is the manufacturing process. Quality management is especially important in the food and beverage industry because defective products cannot be resold, unlike in other industries. For example, clothing that does not pass quality control will be sold at a discount in outlets, whereas defective food and beverage products will be discarded. Production quality will increase product shelf life, reduce waste, and attract more customers. Besides, efficient cost, time, and resource management reduces downtime costs and increases production capacity.
Data analytics can aid in the quality assurance process. For example, production optimization combines machine learning algorithms with production planning and scheduling to create a plan tailored to site constraints, reducing production planning time from 4-6 hours to 10-15 minutes and making it adaptable to unexpected changes. In addition, the plan generated by machine learning optimises production costs while maintaining the same level of production capacity.
Data analytics can be used in quality management practises to analyse all critical factors that affect product quality, such as production processes, quantities, storage, temperatures, and ingredients. Each factor can be monitored by the automation system to ensure the quality of each product.
Rapid delivery increases quality and shelf life
The F&B industry focuses on products with limited shelf lives, effective shipment is another critical factor. The longer these items are stuck in transit, the more likely they will end up in the trash. Furthermore, the quality and freshness deteriorate over time, reducing the likelihood of a sale.
F&B companies can cut costs while increasing profits by utilising data analytics technologies to improve logistics efficiency and speed up shipping operations. For example, data analytics examines traffic, weather, and temperature conditions to determine the best shipping method for preserving product freshness. In addition, the model will determine the quickest route to deliver products to retail stores or restaurants.
Proper inventory management
Inventory management has an impact on the profitability of food and beverage businesses. Because the products have limited shelf lives, streamlined inventory management and optimal stocks are critical for reducing overstock costs.
Inventory forecasting relies heavily on data analytics. To determine optimal stock levels, it can combine demand forecasting insight with other product data such as shipments, shelf lives, weather conditions, storage constraints, and other factors. This reduces the cost of inventory overstocking. Also, create an inventory plan tailored to each store location by collecting and analysing store data to determine which products are best-selling and planning their optimal inventory.
Furthermore, the model can monitor stock availability to notify when a product is about to run out of stock and plan to place the order at the appropriate time by calculating shipping time to avoid the gap in the shelf that leads to missed selling opportunities.
Create marketing strategies that are more brilliant and effective
Aside from the products themselves, marketing strategies, pricing, campaigns, and tactics used to offer products and promotions to customers are critical in the F&B industry. Because of the rapid pace of consumer trends, selling time-sensitive products within their shelf lives and increasing sales necessitates the use of innovative marketing strategies.
Data analytics' role in food and beverage safety
Food and beverage manufacturers should carefully examine their technology to determine whether it is capable of supporting new best practises in areas such as product traceability and quality. Together with supporting changing regulatory requirements and providing technology such as cloud analytics to deal with changing consumer tastes and needs. This could imply upgrading their ERP systems to accommodate new technological capabilities.
Application of data analytics in the food and beverage industry
Fresh product manufacturers, processors, sellers, and transporters deal with particularly sensitive products. In addition to being timely, in the right quantities, and of perfect quality, sensitive goods are seldom storable. In short, too few goods irritate customers and result in lost sales opportunities. When there are too many goods, some of them spoil and the goods used do not generate any income.
Here are a few examples of data analytics applications in the food and beverage industry.
1. Revenue generated in-store
Food and beverage industry analytics can be used to boost physical store revenue. Notifications based on history can notify users when items they purchased are running low and need to be restocked. Furthermore, when they are in the store, the GPS function will enable pop-up messages related to their previous purchase. For example, a customer standing in a cereal aisle may receive a text for cereal they purchased last month at the same store. Food and beverage data analytics assists businesses in catering to customer needs and preferences, as well as restocking items that are likely to run out of stock. This ensures customer retention.
2. Food distribution
Food and beverage data analytics assist businesses in meeting deadlines. This is accomplished through the use of data collected on road traffic, weather, and directions. Following evaluation, these are used to generate a precise estimate of the order's times. Data analytics enables the delivery of perishable food items while they are still fresh and eliminates the transport of stale products.
3. Marketing based on insight
Data analytics in food and beverage show that personalised marketing is the most effective way to capitalise on new opportunities. Businesses can better understand market dynamics, evolving consumer needs, and the best strategies to meet them with actionable food insights and consumer feedback. Combination deals and value-added options are excellent ways to attract and retain customers.
4. Recognizing customer expectations
Customers have access to a number of platforms through which they can be exposed to a wide range of ideas, images, and campaigns. Their feelings about a particular dish or a new campaign are frequently visible on social media. This information and knowledge provide a more nuanced understanding of customers' reactions and emotions toward specific products. Access to food and beverage data analytics is in high demand. It is a critical factor, particularly in the development of new food products, and is frequently used by food conglomerates.
5. Complete visibility
The food and beverage industry requires end-to-end transparency in its supply chain because it has a direct impact on human health. Food contamination is a major impediment. Furthermore, the product life span is reduced during logistics.
Transparency is maintained by forecasting storage conditions, demographics, contamination, weather, shelf-life, and so on. These predictive models are based on data analytics for food and beverages. They also help with inventory management by alerting owners when there is a shortage.
Competitive advantages can be gained from data analytics
Interlinking processes as best as possible in order to design transport and sales channels that benefit quality and freshness as much as the company's results is critical. Depending on the company's purpose, data-driven planning and decision-making can be decisive or even business-critical. In addition, relying on data can enhance cultivation techniques, stock management, and warehouse management, and forecasting demand for retailers. Finally, quality data and information are supporting the food industry supply chain and predicting a more prosperous future.
Conclusion
Would you like to know how data analytics could affect F&B supply chains? Costs associated with perishable products can be addressed. Considering data analytics will boost long-term profits and sales for industry players.
The use of data analytics in the food and beverage industry is expanding to include end-to-end operations from preparation to stocking. With manufacturing becoming more complex, food analytics appears to be the way forward. Businesses can use data analytics to quickly access high-quality data, allowing them to make the right decision at the right time in order to compete in the market, reach the right customers, and remain profitable.
Embracing technology and innovation, adapting capabilities, and transforming digitally to become data-driven, smart, and connected. It appears that businesses can not only survive but also thrive by using data analytics in food and beverage manufacturing. The ability to leverage data to gain and maintain a competitive advantage will be a critical differentiator going forward. Increasing price sensitivities and a need to provide consistency across all touchpoints have led to large-scale deployment of analytics solutions in the food and beverage industry.
As a leading big data analytics company, Way2Smile Solutions develops digital platforms and products for global companies, simplifying, optimizing, and delivering impact. You can reach out to our representative for more information.
Author Bio Credit
Madhu Kesavan is the Founder & CEO of W2S Solutions, a globally recognized digital transformation company empowering enterprises and governments in their digital journey. With 20+ years in the IT market, he makes his vision for a sustainable future come true by leveraging technology.