Manufacturing Products for Gut Health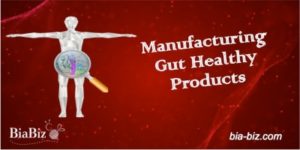 The outbreak of Coronavirus has reinforced the importance of boosting the immune system. Scientists are advancing research on gut microbiome and the immune system as it relates to Coronavirus.
With the global gut health trend, understanding Microbiome and the relationship between diet, gut and health is essential for food manufacturers who want to provide 'healthy calories' to consumers.
For consumers looking to buy gut healthy products, there are many challenges. These are opportunity areas for the food industry:
It is difficult to find and easily identify gut healthy products on the shelf. Many products and brands need to be scrutinised to find products that meet gut health criteria.
Products advertise gut healthy ingredients, however the overall product is not gut healthy (which is misleading)
Many product labels

are very technical and difficult for consumers to understand
include long lists of artificial and 'unrecognisable' ingredients.

It isn't always possible to tell from a label if a food is 'minimally processed
Strong immune systems have never been more important. Providing gut health products, with labels that help consumers make an informed choice, is an opportunity area for many food manufacturers.
Learn more about Nutrition, Gut Health and the Immune System as an input to your product design.
Challenge your portfolio and define a set of food values that support gut health, as part of your value proposition, with my Food Values Blog & Toolkit
The area of gut health is one I am passionate about, it took on a new meaning for me a few years ago when a family member was diagnosed with an auto-immune disorder. Gut health was a key area of intervention for full recovery.