5 Free Design Apps to Step Up Your Social Media Game (Guest Blog)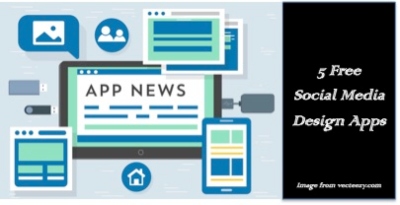 It's no secret that people are visual creatures. It takes more than written content to catch our eye and entice us to dig deeper into social media posts. This is why businesses are using the help of imagery and graphics to create visually appealing content. The good news is that creating these materials doesn't have to be complicated or expensive. I'll let you in on 5 free design apps you can use to create some impressive social media content for your business.
1. Logo Creator
First and foremost, every business needs a beautifully designed logo. This logo will be used throughout your social content, so it's important to have this design first.
A helpful, free tool for creating your very own logo is Logo Creator. Just begin by uploading your chosen icon to the app. If you still need an icon, check out Vecteezy to browse their free selection. Next, choose your color and design with the Logo Creator tool. Before you know it, you'll have a fresh logo, ready for all of your social media content.
2. Pablo by Buffer
This tool is great for creating a quick and simple visual with images. With Pablo, you can overlay your photos with your logo and text for a simple but effective image design. Perfect for Pinterest, for example. Hey, sometimes you just need an uncomplicated design. Why bother with intricate software in this case?
3. Desygner
It's said that entrepreneurs are never really off the clock. Especially in our generation, when sharing content regularly is essential for business. If you're a business owner constantly travelling from point A to point B, you might not always have access to your computer. But one thing we always have on us is our cellphone.
Desygner's free tool is there for you during those on-the-go times. It's created to be super mobile friendly compared to most design software. Create your designs, share, print, edit, and more- all from your phone. This app is extremely versatile and can be used for just about any design project you have.
4. Gravit Designer
Not all of your projects will be completely straight-forward. You may encounter a project where it's useful to have a combination of features to get your design to your liking. For instance, in designing your website, presentations or your business cards.
For a full featured vector art design app, try out Gravit Designer. This tool allows the flexibility to design graphics from scratch, exactly how you want them. This tool may take some getting used to and a creative eye. But the infinite possibility you have with it makes Gravit Designer a great addition to your toolbox.
5. Pixlr
Having your own images can be both a money saver and add a more personal touch to your social media content. Photo editing tools can help turn your ordinary photos to striking, eye-catching images. Unfortunately, some photo editing software can be expensive and complicated to use if you're not a professional photographer.
This is where the Pixlr app can come in handy. It's a free app with several of the editing features used in Adobe Photoshop. You have complete control over modifying, overlaying, and adding effects or filters to your images. If this version is too complex for you, there's even a more simplified version called Pixlr Express.
A final word to the entrepreneur:
Starting a business is an investment, for sure. An Investment of both time and money. But what will set the smart entrepreneur apart is knowing how and when to save. By taking on design projects yourself, you already cut down on outsourcing costs. Even better, is to take advantage of all of the wonderful free apps that help business owners, like you, get a head start. But what is never acceptable is putting out mediocre, unappealing content. No excuses!
About the Author
Bernadette Maxwell is a web and graphic designer. She is a bundle of energy and life only seems to slow down around her when she is freelance writing. She also loves to sing and dance.