45+ Free Online Management Trainings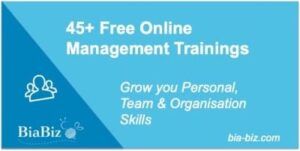 I have worked in organisation, leadership, management and people development for 25 years and have been exposed to so many valuable and insightful trainings, resources, and best practices from around the world. I have consolidated these into a number of catalogues on our website.
Our Management Training Catalogue includes links to 45+ free online trainings and lots of valuable resources on Hiring & Induction, Performance Management, Team Management, Strategy, Management & Leadership, Structure & Culture and Diversity & Inclusion.
Our Personal Development Training Catalogue includes links to 25+ free online trainings on Self Assessment, Career Management, Competencies, Organisation Skills, Project Management, Communication Skills and Influencing Skills.
Our Food Training Courses Catalogue has links to over 300 trainings to support your staffs annual training calendar.
As a Manager you are expected to:
Know the business (strategy, structure, operating model, culture & values, policies & standards)
Select, motivate, develop & retain key talent.
Manage roles, accountabilities, priorities, performance & results
Define & manage processes & projects
Align policies & standards with processes & functions
Build effective teams
Manage customers & stakeholders
Manage operating & capital expenditure.
Manage change
Have you assessed where you are as a manager and where you aspire to be? Our catalogues will help you to enhance your and your teams management skills and to develop new skills.
In addition my People Management Toolkit provides valuable resources:
Inform your thinking, broaden your perspective and accelerate your growth.