Talent Management Tools for People Managers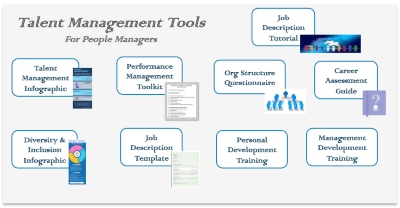 Talent Management is an integrated system encompassing recruitment, performance management, learning & development and retention. It is hugely beneficial for people managers to understand the scope of talent management Talent Management Infographic and the tools and best practices that can help them in their roles.
Performance management is an annual cycle of aligning strategic goals to individual objectives and then managing employee performance to deliver those objectives. A Guide to Performance Management for People Managers covers the 4 key process steps.
A job description relates to a role on the organisation chart and captures the accountabilities and competencies that are important to delivering specific aspects of the strategy and business plans over the long term. Job Descriptions are not person dependent. Job Description Tutorial and Job Descriptions Template
An effective structure provides the framework that enables all levels of the organisation to deliver on objectives. Structure is about the roles, the people in the roles and the links between roles Organisation Structure Explained and Organisation Structure Questionnaire
Do you have a framework for enhancing diversity and developing an creating an inclusive culture in your organisation Diversity & Inclusion Infographic
Career development involves defining a career vision, outlining a roadmap and cascading this to an annual personal development plan Career Assessment Guide
Our Management Training Catalogue includes links to 45+ free online trainings and lots of valuable resources on Hiring & Induction, Performance Management, Teamwork, Strategy, Management & Leadership, Structure & Culture and Diversity & Inclusion.
Our Personal Development Training Catalogue includes links to 25+ free online trainings on Self Assessment, Career Management, Competencies, Organisation Skills, Project Management, Communication and Influencing.