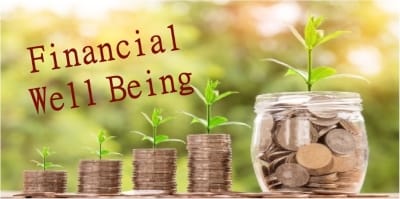 Financial well-being means having financial security and financial freedom of choice in the present and into the future. It describes a continuum ranging from severe financial stress to being highly satisfied with ones' financial situation. It is not strictly aligned with income and net worth and other factors play a role in determining financial well-being. You can have a high level of financial well-being and be far from affluent and equally you can have a high income and may not have or feel you have a high level of financial well-being at all.
Ask yourself the following questions
Are you in control of your day-to-day financial life? Do you manage your money or does your money manage you?
Do you have the capacity to absorb a financial shock? Would your life be upended if your home needed an emergency repair or if you were temporarily laid off from your job?
Are you on track to meet your financial goals? Do you have an informal or formal financial plan to help you reach those goals?
Do you have the financial freedom to make choices that allow you to enjoy life? Can you afford wants in addition to meeting your needs?
Regardless of your answers consider this one.
Given your current financial circumstances how can you make the best of your situation now and into the future?
So where do you start?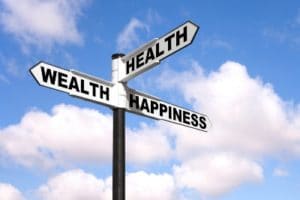 Budget – Having a budget will make you feel more secure because it gives you something against which to track your money. Download your Personal Budget Tool.

Assess – your capacity to absorb a financial shock. Remember Save Invest and Protect. Saving is a conscious decision and daily activity with a time horizon. Saving can be depositing money into a bank account, spending less, doing comparison shopping, investing or investing into a pension fund. Investing is critical to both short and long-term wealth creation and securing your financial future. A good tip is to get into the habit of viewing all your purchases as an investment to encourage you to think more strategically about how you spend your money. Protection insurance helps you prepare for life's bumps in the road to ensure your wealth and loved ones are protected into the future.
Plan – A financial plan is a longer-term strategy that encompasses all core pillars (e.g. savings, protection, investments to name a few). Having a financial plan requires having a financial goal and a goal without a plan is merely a wish. A life plan involves you defining your purpose, values, goals and objectives which will give meaning and purpose to the often challenging day-to-day financial decisions and trade-offs we all must make to achieve it. The most important question for you to answer here is What do you want? It is the answer to this question that will determine the direction of your life and money.
Know your Financial Know-How – it is important to be financially informed. Know when to seek and where to get reliable financial information. Ensure the information presented is in clear English you understand so you can make sound financial decisions. Once a financial decision is executed, monitor and adapt as necessary to stay on track.
All information contained within this article is for informational purposes only and the views expressed do not constitute financial advice. Please consult a professional financial advisor before making any financial decision.
U Consulting specialises in financial education and personal/strategic financial planning for senior managers, directors and business owners.