Visual Storytelling: How to Effectively Utilize Graphics in Your Food Advertising (Guest Blog)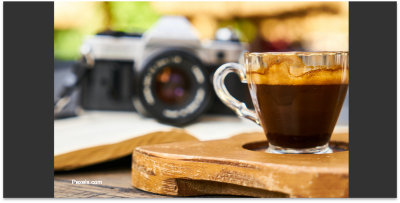 According to statistics, there are 36,000 food and beverage establishments in the United States alone. If you want to stand out from the crowd, you'll need to utilize the power of advertising.
However, while advertising is indeed proven to be effective in boosting sales and brand awareness, you just can't do it haphazardly. You'll need a clear direction and business plan, plus an underrated strategy: visual storytelling.
In this article, we'll discuss what visual storytelling is, and how you can effectively use it to advertise your food business.
Let's get started.
What Is Visual Storytelling?
Visual storytelling is defined as the use of graphics, images, videos, photographs, illustrations, animations, or other visual elements to communicate information or a storyline to an audience. To put it simply, it's the use of various graphic elements as a visual representation of a story, and then driving that story to their audience's mind.
The use of visuals is particularly effective in the context of advertising and marketing. According to studies, the human brain can process an image in as little as 13 milliseconds. We can process an image as fast as we can blink our eyes, compared to when we take around 3 seconds just to read a text on a page.
With multiple businesses and advertisers vying for your audience's attention, using images is the best way to catch their eye. If you want them to remember your brand and your message, images are highly effective as well, as it is proven that people can remember 65% of what they see, compared to only 10% of what they hear.
And if you think that visuals are already effective, it's even more powerful when you pair it with great brand storytelling. Brand storytelling is the use of narrative and stories to evoke emotions in your audience's heart. Ever seen a commercial that made you tear up or one that made you laugh really hard? It's the power of storytelling.
While these may all sound intimidating, it doesn't have to be. Visual storytelling can be applied to various industries and niches, and can be done by any business whether big or small.
How Can I Use Visual Storytelling to Advertise My Food Business?
Now that you know what visual storytelling is and its importance, let's move on to how to actually use it to advertise your food business. Here are some examples:
Focus on food photography
Ever heard of the saying "People eat with their eyes first?". People tend to rely on their visual senses to determine the quality of food. The more visually appealing your food looks, the more appetizing it is for your customers.
The best way to advertise your food is through the use of food photography. This is especially true in the digital world, as your food photographs are one of the first things people see when they search for your food business online. Using high-quality and visually impactful photographs can make your business more appealing to your customers.
This can also help in building trust with your customers. Food photographs that accurately reflect the taste and quality of your food can build trust with them, which will give them a positive dining experience, and eventually lead them to come back to your restaurant for more.
Lastly, food photography is cost-effective as well since you'll be using your photographs across various marketing materials. Your food photographs will be used in your menus, posters, social media posts, website, ordering apps, and others. Even if the initial cost for a high-quality photography may be high, it's going to be worth it down the line.
Embrace food videos
Food photographs are already impactful, but you can even double their impact when you use them in video format instead.
The popularity of food content on various social media platforms has steadily increased in the past few years. On Youtube alone, there has been a 170% increase in the number of food videos. These videos have generated over 51 billion views. Food is ranked in the top 10 most engaging content for millennials. Combined with the data that shows that video content is the most engaging type of advertising content, embracing food videos for your food business is a no-brainer.
You don't need to spend millions of dollars to produce a commercial for your food business. You can start with small steps and leverage social media. You can shoot short-form videos to post for your TikTok videos, Instagram Reels, or YouTube Shorts.
Some other ideas for food videos are:
Recipe videos (remember Buzzfeed's Tasty videos?)
Behind the scenes
Restaurant tour
Meet the chef
Story of why and how you started your business
Restaurant reviews
Mukbangs
Food and recipe hacks
Customer interviews
Food history
Using an engaging visual medium like a video format, plus the power of appetizing food shots, combined with a powerful narrative is like a perfect recipe for a visual storytelling strategy to boost your business.
Think of your logo
You may now know the importance of getting high-quality images and videos of your food, but did you know that your logo is important as well?
Your logo serves as the face of your business. It's what people usually see first when they look for your business. It's what you'll place on your packaging, menu, posters, website, and other marketing materials. If you don't have a well-designed logo, you'll risk looking unprofessional to your customers.
A great logo is simple, memorable, and visually appealing. From the colors to the icons to the typeface you'll use, it should reflect your restaurant's ambiance and personality. You can even go specific and use visual references to your culinary style. This can effectively communicate to your customers what your restaurant is all about, or what food you serve.
Your logo is what will make your customers recognize your business. It will also make you look more reputable and credible compared to your competitors who may not have one. So make sure to design your logo wisely. If you want to get started, you can check out some logo maker tools online to get some ideas for your design.
Experiment with infographics
If you want to show data or information about food, try creating an infographic about them. Infographics are defined as "graphic visual representations of information, data, or knowledge intended to present information quickly and clearly." If you want to simplify information and have it easily be understood by your audience, using infographics is the way to go.
Infographics tend to be more visually appealing and shareable compared to long paragraphs of text or data. So if you want to share nutritional information, food history, or food statistics, try using an infographic format for them instead.
Wrapping Up
Running a food business is difficult, especially since it's a very competitive industry. Leveraging the use of advertising, particularly visual storytelling, is a way to get your name out there and get more sales.
Visuals have such a huge impact on a person, even subconsciously. Just looking at delicious images of food is enough to stimulate hunger in a person. Even with color (yes, color!), you can invoke a specific emotion in a person. Red can incite hunger, orange can draw excitement, while green is associated with health (perfect if you have a healthy food business).
Different graphic elements can be strategically used to convey the right message to your customers. By capitalizing on your visuals and making sure you hit all the right notes on your aesthetic, you can surely build your business and get more revenue.
Author's Bio
Janella Malapad is an outreach specialist at DesignCrowd. She spends her free time playing volleyball on the court, carrying enthusiasm, and embracing the love of the sport when she's not lost in the captivating landscapes of poetry. You can reach her through Linkedin or her email janella.malapad@designcrowd.com
Additional Resources
14 Free Social Media Design Websites
Juicy Tips That Will Assist You in Finding an Inviting Name for Your Food Brand (Guest Blog)
5 Free Design Apps to Step Up Your Social Media Game (Guest Blog)
Website and Social Media Tips for New Food Businesses
Which Marketing Strategy Works for Your Small Business? (Guest Blog)